Sault Ste. Marie
Karen Rodock, Unit Manager
906-635-5281 x 56167
RodockK@michigan.gov
The Sault Ste. Marie Management Unit manages 322,500 acres, out of two offices, Sault Ste. Marie and Naubinway. These two portions of the unit, or "areas" are separated geographically by the Hiawatha National Forest.
Click on either map to view the Sault Ste Marie Forest Management Unit
Scroll to the bottom of the page for more information on current management strategies and specific State Forest compartments
Inventory Schedules
The Open House: Your Opportunity to Participate
Each year, management recommendations are presented at open houses. As the name implies, open houses are informal sessions that give citizens an opportunity to speak with foresters, wildlife biologists, and other resource professionals. The inventories, compartment maps, and recommended management actions are available for the public to look at and provide suggestions to MDNR staff.
2019 Year of Entry Open House Schedule
The Compartment Review: The Final Plan
Modifications to the management recommendations are then incorporated into a finalized compartment plan to be presented at the "compartment review". The compartment review is a formal presentation that incorporates information from the initial inventory, the multi-disciplinary input period, and the open house. The presentation outlines the formal management plan for the compartment and includes an explanation of forest treatments if any are proposed.
2019 Year of Entry State Forest Compartment Review Schedule
Fuelwood Information
http://www.michigan.gov/fuelwood
Learn about the Sault Ste. Marie Management Unit
The Sault Area is responsible for approximately 125,000 acres in Chippewa County and eastern Mackinac County, including ownership on numerous islands in the St. Mary's River and Lake Huron. Most notable are over 47,000 acres on Drummond Island. Aside from the main office located in Sault Ste. Marie there is the DeTour office, a one-person station. Recreational opportunities managed out of the Sault Area include Lime Island rental cabins and campground, two additional campgrounds, ski trails, one of which is lit for evening use, over sixty miles of designated ORV and motorcycle trails, and countless miles of snowmobile trails. Lime Island's attractions include a boat harbor and restoration of a historic town site.
The Naubinway Area, in Western Mackinac County, consists of approximately 197,500 acres. Naubinway area has many miles of Lake Michigan shoreline, with much of the 19 miles of contiguous, undeveloped shoreline under natural area or proposed old growth management to preserve the integrity of the shoreline flora and fauna. Only one mile of private shoreline separates two large contiguous shoreline parcels.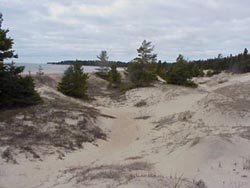 There are seven campgrounds managed out of the Naubinway Area: two on Lake Michigan, four on inland lakes, and one on a trout stream. Other managed recreational opportunities include: hiking trails adjacent to three campgrounds, numerous designated motorcycle trails and snowmobile trails.
While the Sault Area has more widely scattered ownership, Naubinway's forest has more contiguous land holdings. The Unit contains a variety of upland and lowland cover types consisting of pine, northern hardwoods, aspen mixes and lowland conifers including cedar. The Sault land types are on areas varying from clay to rock; Naubinway's land types range from sands to muck. We are truly home to the "Mackinac Mix".
Our area has many pine plantations planted by the Civilian Conservation Corp (CCC) in the 1930's and early 1940's which are being actively managed to increase age class diversity, and to develop products such as utility poles and cabin logs.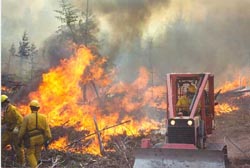 We have an active prescribed burn program to assist with slash reduction prior to planting. We also prescribe fire for wildlife opening maintenance, to help reduce competition and prepare seed beds for natural regeneration, and for blueberry production.
One such blueberry area is located in western Mackinac County. A large bog area (1,100 acres) was once home to a commercial blueberry picking operation. Camps were erected; blueberries picked and shipped out by nearby rail. The area had been burned in the past (1966) to help perpetuate the blueberry plants. Ongoing plans to burn the area are in place. One-third of the bog was burned in 2000, with a nice crop of blueberries resulting.
Our Unit is home to several deer yards, mainly along the Lake Michigan and Lake Huron shorelines and US-2 corridor. The cedar stands offer yarding deer protection from harsh winter weather. Moose and wolves are also known to inhabit the entire Unit.
Wildlife Bureau is in the process of assisting in wetland restorations in and around Munuscong Bay in eastern Chippewa County for use as a waterfowl management area. They have also assisted in actively managing aspen areas for grouse habitat across the entire Unit.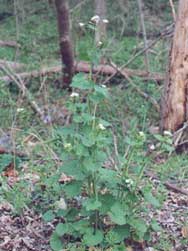 Increasingly, we must keep an eye out for exotic and invasive species that pose a real threat to the health of our forests. Among other invasives, garlic mustard has been found in our area. This species will readily reproduce and out-compete native flowers in our forested areas. We have been working with MDOT to curb the spread from high use areas. Our hardwood stands are undergoing changes from exotic species including garlic mustard, as well as Beech Bark Disease and Emerald Ash Borer.
Beech Bark Disease (BBD) is very devastating since beech is a mast, or nut, producer and is often an important home for many cavity dwelling birds and mammals. Our challenge will be to identify resistant beech trees and promote other mast producing species to help offset the loss of these trees.
An isolated pocket of emerald ash borer (EAB) was found in Chippewa County in 2005. An eradication plan was developed and implemented, and the area is currently being monitored for more EAB signs. So far this isolated pocket has shown no more signs of EAB. But in 2007 EAB was found in Mackinac County, near Moran and St. Ignace. Mackinac County is currently under quarantine status for movement of Ash products and hardwood firewood. For more information regarding EAB go to the Michigan Department of Agriculture website at www.michigan.gov/mda. Just another reminder to not move firewood!
The Sault Unit is the only unit in the state that boasts ownership on, and watersheds flowing to, three of the Great Lakes.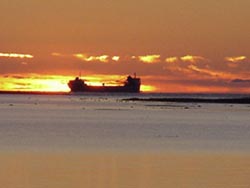 2019 YOE Compartment Maps
All State Forest Compartment Review maps and documents are drafts to be used for general planning purposes. Links to these documents will be removed after the review occurs.
For a map of the Sault Ste Marie Forest Management Unit's 2019 compartments, view the Sault Ste Marie Locator Map.
The Sault Ste Marie Forest Management Unit has 2019 YOE Review packets available for the following compartments. The packets were posted August 11, 2017 unless noted otherwise:
The Sault Ste Marie Unit's 2019 YOE Compartment Review was held on October 3, 2017. The following linked document presents the changes and decisions made at this Compartment Review to the Inventory Database, Reports, and Compartment Maps, presented at Open House, for the Sault Ste Marie Forest Management Unit. This document is the official record of changes and decisions.
Sault Ste Marie Record of Changes and Decisions - Posted Nov. 22, 2017
Ecological Reference Area Plans
Special Conservation Areas
Archived State Forest Compartment Maps
2018 YOE Compartments
2017 YOE Compartments
2016 YOE Compartments
2015 YOE Compartments
2014 YOE Compartments
2013 YOE Compartments
2012 YOE Compartments
2011 YOE Compartments
2010 YOE Compartments
2009 YOE Compartments
2008 YOE Compartments
2007 YOE Compartments